Leslaw K. Bieniasz' s personal web pages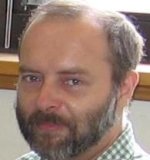 Leslaw K. Bieniasz, Dr. Sci.

Address:
Cracow University of Technology,
Faculty of Physics, Mathematics, and Computer Science,
Institute of Network Computing,
ul. Warszawska 24, 31-155 Cracow, Poland.
Tel./fax. (secretariat) + 48 (12) 6282670
E-mail.
Position: Assistant Professor (Polish "adiunkt")

More info:
scientific interests, publications,
the ELSIM program, research contacts,
hobby.

My favourite quote(s):
Albert Einstein:
"Science will stagnate if it is made to serve practical goals."
Morton Gurtin in his 2004 Timoshenko Medal Acceptance Speech (according to Wikipedia):
"Good theoretical science is done by a few dedicated people working alone or with one or two colleagues; this science does not need the
large grants that have made prostitutes of most of us, including me. The need to be relevant, the need to be applicable to industry; these
are not forces that lead to advances; what leads to advances, often spectacular, is simply the curiosity of the individual scientist, just as
Einstein's curiosity about the structure of space-time led to the theory of relativity. Big science is a driving force for mediocrity."
Professor Ryszard Tadeusiewicz, in an interview for the radio RMF (translation from Polish):
"Science is like sex: sometimes something useful is born out of it, but this is not the reason why people do it"
Albert Einstein:
"A scientist is a mimosa when he himself has made a mistake, and a roaring lion when he discovers a mistake of others."
Douglas Hofstadter:
"Hofstadter's Law: It always takes longer than you expect, even when you take into account Hofstadter's Law"
Last Updated: 5 th September, 2017.
© My own opinions expressed in this, and related personal www pages do not necessarily reflect the opinions of my employers. Anyone willing to disseminate information contained in my www pages is kindly requested to consult this matter with me.


(back to the home page of the Institute of Network Computing)